Mega est un OVNI dans l'univers des hébergeurs de fichiers: né des cendres de Megaupload, il a pris le pari du chiffrement facile pour tous, une très bonne résolution qui en fait un hébergeur professionnel très sécurisé. Malheureusement pour les pirates, Mega n'a en aucun cas pris la succession de Megaupload et s'avère impossible à utiliser pour du warez à grande échelle.
Historique de Mega
Mega a été créé en 2013 (le 19 janvier) un an jour pour jour après la fermeture par le FBI de Megaupload qui a régné en maître pendant 8 ans sur le DDL (lire : Le DDL comment ça marche). Cette nouvelle version se rapproche plus d'un cloud à la dropbox, qui se veut totalement chiffré dans le but de protéger le service et les utilisateurs. Même si de nombreux utilisateurs continuent de l'utiliser pour le warez, Mega n'est plus adapté au téléchargement illégal.
Mega livre un vrai combat pour la vie privée de ses utilisateurs et propose des fonctionnalités inédites comme un chat chiffré disponible depuis son compte. Même si Mega n'est plus un symbole du warez, son combat pour la vie privée est mal vu des lobbys et lui a valu de voir certains de ces comptes bancaires fermés. Le site fait régulièrement le buzz depuis qu'il est en guerre avec son fondateur Kim Dotcom.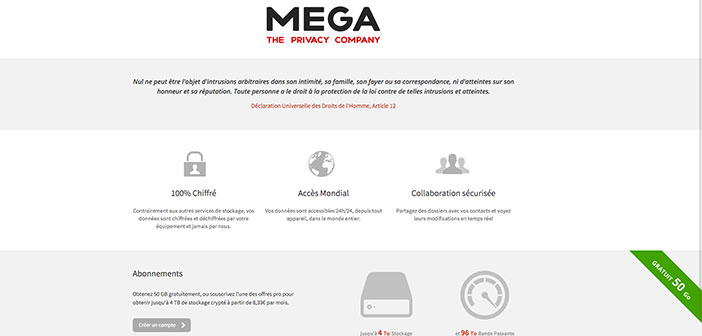 Test de Mega pour télécharger
Mega est parfait pour télécharger des fichiers, il n'impose aucune limitation de vitesse, ni aucune publicité. Son interface peut dérouter: le téléchargement se fait dans le navigateur avant de s'enregistrer sur l'ordinateur. Très facile d'utilisation et d'accès, il ne demande même pas de captcha à remplir ou de décompte à attendre et nul besoin de compte premium pour télécharger. Mais il s'apparente plus à un dropbox, seules quelques communautés privées l'utilisent pour y stocker des fichiers warez.
Notre avis sur Mega pour uploader
Lors de la sortie de Mega, de nombreux uploaders s'attendaient à un service équivalent à Megaupload. Ils ont très vite compris en voyant que le quota de fichiers en gratuit avait fondu de 200 gigas à 50 gigas, et que le trafic de téléchargement de ces mêmes fichiers étaient dorénavant payant. Même si Mega reste populaire pour les downloaders, attirés par l'absence de limitations, pour les uploaders elle signifie « suppression très rapide de leurs fichiers sous copyright ».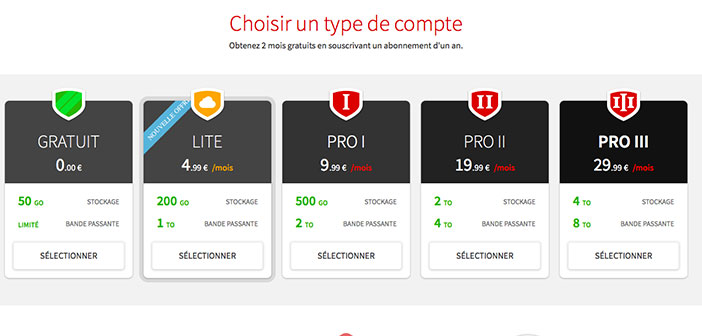 Pour les uploaders, il est toutefois possible d'opter pour un compte premium avec des tarifs variant entre 4,99€ et 29,99€ mensuels (de 200 gigas à 1 To de stockage, et une bande passante comprise entre 1 et 8 to mensuelle).
Confidentialité & pérennité du service
Mega souffre de la réputation laissée par Megaupload, c'est un service à vocation légale pris pour un hébergeur de fichiers warez. Il subit finalement la pression des ayants droit, n'attire pas la confiance des utilisateurs de cloud traditionnel et déçoit les pirates. Même si le site est géré de manière très professionnelle, sa pérennité est aussi entravée par la guerre ouverte avec Kim Dotcom qui fait tout pour faire fuir les utilisateurs du service.
---
Pour conclure sur ce test de Mega, c'est un bon cloud de type dropbox qui a le mérite de mettre la vie privée de l'utilisateur au centre de ses préoccupations. Ses tarifs sont d'ailleurs très abordables pour un cloud. Cependant Mega est pris pour un Megaupload-bis alors que cette utilisation n'est pas du tout adaptée aux nouvelles directives du service (sauf pour des communautés très privées avec des petits fichiers). Pour conclure, DropMega pourquoi pas mais UptoMega on dit non !
Cet article peut contenir des liens de parrainage
Un assez bon Dropbox-like qui rend le chiffrement accessible à tous, mais un mauvais Megaupload-Bis étant donné les efforts fait dans la lutte anti-piratage.
Note utilisateur (

15

Votes)