Alors que la sortie de la saison 8 de Game of Thrones approche à grands pas, il est important de rappeler quelques règles de sécurité élémentaires : en effet, il ne fait aucun doute que la série va encore battre des records en termes de téléchargement illégal, et des virus traînent souvent entre deux épisodes…
Des virus cachés dans les épisodes de Game of Thrones
C'est la société de sécurité informatique Kapersky Lab qui l'annonce, à travers un rapport publié récemment : les différentes saisons de Game of Thrones disponibles sur les plateformes de téléchargement illégales, que ce soit en DDL ou en torrent, sont les contenus qui accueillent le plus de virus cachés. Le rapport indique que 31 séries populaires ont été analysées, et que Game of Thrones représente à lui seul 17% des contenus piratés infectés en 2018. Un résultat surprenant quand on sait que c'est la seule série qui n'a pas eu le droit a une nouvelle saison cette année-là (la saison 7 est sortie en 2017 pour rappel).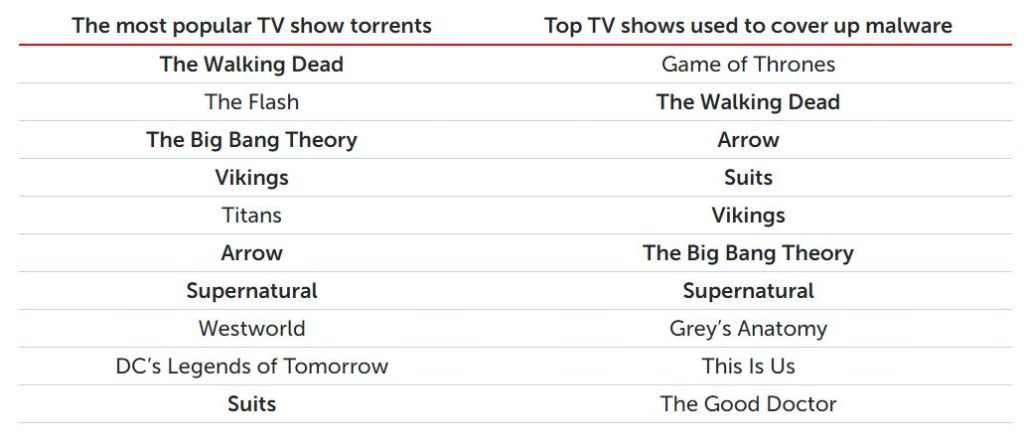 Après Game of Thrones, The Walking Dead et Arrow sont les séries les plus sujettes à accueillir des malwares et des virus. Attention donc à vos ordinateurs, puisque la prochaine saison est très attendue, et les pirates prendront un malin plaisir à insérer quelques logiciels malveillants entre deux épisodes…
Comment regarder Game of Thrones légalement ?
Si vous avez décidé de rester dans le droit chemin cette année, il n'existe pas 36 solutions pour profiter du futur massacre du Roi de la Nuit : la chaîne OCS diffusera les épisodes en France au même moment qu'aux États-Unis, le lundi à 3 heures du matin. Pour ceux qui veulent profiter de la nuit, les épisodes seront disponibles sur OCS Go à 6 heures du matin, puis seront rediffusés le soir même.
Ne manquez rien de l'actualité du téléchargement sur Nextwarez.com suivez-nous sur Facebook et Twitter.